I spotted the following in a press release this morning, and it was so good I had to share:
"Europe From $999 Return!
Online travel agent
ZUJI Australia
has partnered with Garuda Indonesia to give travellers a new reason to fly high...to Amsterdam, that is.
From now until 30 November 2011, travellers can take advantage of the more-than-affordable return flights (departing from Sydney and Melbourne) to the picturesque and highly entertaining 'Venice of the north' for only $999, including taxes. That's a saving of more than $1000! To boot, travellers won't be slapped with any booking or credit card fees.
More importantly, there is no need to wait for months before jetting off. Prices are valid for travel from 14 January to 31 March and from 16 April to 13 July 2012.
This high flying deal is not to be missed! Book at www.zuji.com.au."
Now I can't afford the time or money to go, given that I'm taking my kids to Fiji and Western Australia in the next two months, but someone else might like to take advantage of these fantastic airfares.
And it got me thinking about other really cool deals or things I've come across that you might like, dear readers.
I'm not getting paid to shared these with you, I just really like this stuff, and karma makes the world go around, so I thought, why not?
Nespresso
. I've had my own Nespresso coffee machine since 1996. I know this because my ex-husband bought it when I was speaking at the Somerset Festival of Literature on the Gold Coast following the launch of my book
Happily Ever Parted (Surviving Separation and Divorce
). I know, ironic, huh?
Anyway, I was a bit peeved that he'd gone out and spent money in my absence but one taste of the nectar that is Nespresso coffee and I was sold.
And unlike every coffee machine we've ever owned the Nespresso is still churning out perfect coffee, years after the warranty ran out.
It has travelled across the ditch to New Zealand and back again. It's survived multiple moves, and even separation and divorce. It makes not only excellant capuccinos, flat whites and espressos, but fantastic hot chocolates and babycinos for the kids.
When I visited
my spiritual home
the Nespresso shop in Sydney recently, I was overtaken by the urge to buy one of the new machines in their pretty new colours. But I couldn't justify the purchase since my old one is still working perfectly.
Instead, I comforted myself by sitting at the coffee bar and tasting a few of the new flavours, eating free chocolate, and chatting to a lovely lady who was buying her third machine - third mind - for her boat! As you do. Or don't, in my case.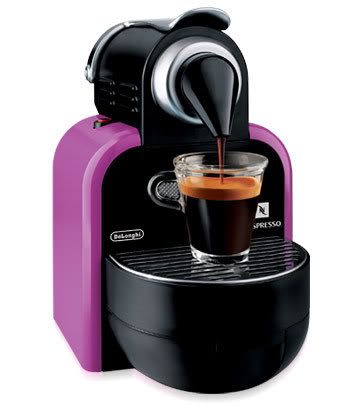 Oh Nespresso, how I love thee. Even I can't stuff up coffee-making with my Nespresso...

Group-buying deals. You know those quick-sale deals, like
Our Deal
,
Grab One
and
Living Social
? I've grabbed a few lately, and been happy with all but a couple of them. One of them was a spur of the moment one I grabbed with a friend, which was a package deal, all-inclusive holiday to Fiji for the kids and I. My friend and her kids are going too. We've each got our own rooms and will do our own thing if we want to. However, we're both single Mums so it will be good to have company if we want it. Plus, the kids will at least see a few friendly faces at kids' club. And it's all paid for, so there will be no nasty surprises when it comes to paying the bill at the end.
I've also enjoyed hair cuts, massages, a cut-price car service, and meals.
I've really only found a couple of the restaurant deals to be not great value and/or at out-of-the-way places. My advice is to only book meals if you know the restaurant and would normally eat there anyway.
The same with the holiday destinations really. (In this case, my friend has stayed at the resort in the past and can vouch for it, so we are well pleased.)
There was one hairdressing salon that talked me into getting a few extras I couldn't really afford, but that was my own fault for not being strong and sticking to the voucher deal only.
Justice
A shopping brand for tweenage girls (aged 6-14), I love that Justice comes in sizes from 6-20 in tops and 6-18 in bottoms, so the designs are suitable for all shapes and figures. The clothes are age appropriate as well - no gold lame tops or hotpants here, but the designs are on-trend and non-daggy too.
It's true, a size 8 tee arrived by courier today, or I may not have been aware of the brand, but that's the extent of my interest. (The shirt is a perfect size and design for Miss 8, but she's not with me today so can't model it for you).
I predict she'll love it. Not only is it very cute, but it's printed with scented inks, and smells like lollipops! I love the price. It retails at $10.90, so it's something I could normally afford to buy for her. Sweet!
People who go the extra mile, even though they don't have to. Like Allan Border, at the
Queensland Cricket Junior Cricket Revolution Launch
earlier this week. Even though he didn't have to, AB stayed on after the event to chat to parents and kids, and play with the little ones. He shared tips, threw balls, coached them, and even patiently put up with 'look at me now', 'throw it to me', 'my turn, my turn' pleas, high-fives, and once, an errant ball in the unmentionables, courtesy of Miss 8! A true champion.
And just because I can, here are some photos taken at the launch by the very talented photographer
Hannah Millerick
.